With my older brother during my birthday last year when I turned 25.
I turn 26 in two weeks and for my birthday this year, I decided to create a special post with throwbacks to different stages in life. The pictures are in no particular order but you will find that some relate to the text and some don't. These are people who have influenced my life in some way.
With my brothers at Disney land Paris in ~06 - not entirely sure. Whatever that bandana was doing on my head, just know that Jesus fixed it.
1) Listen To Your Spirit
...and if you believe in the Holy spirit, even better! Listen to the Holy spirit! Rather than worrying about the future, simply let God guide you. There are signs every where, in your heart, through words of wisdom and encouragement, through dreams etc. Basically work on what you can today and leave God to play it out in the beautiful way that he knows how. You will go further in life when you listen to that inner voice and trust your own path.
Jenna, Obi and I. This guy has been the bestest of friends to me. Very rare to find someone who sticks like family. This was taken in fall 2009.
2) Trust The Timing of Your Life
Take it one day at a time. Don't worry about the path someone else is taking. Stay in your own lane and who knows...God will connect someone to you or give you an opportunity that will take you far beyond your expectations.
I used to think forming efiko and acting like book was the beginning and end of life was the way to success. lol I tried it briefly and I realized that you can't overwork your way to what God has promised you already. Timing is everything in life so wait your own turn and do your best with what God has given you. Basically, be diligent and God will in turn be diligent in fulfilling your needs.
We all grew up as siblings. This was at the Wind and Fire December church conference - our major hot spot. We always had fun looking for the parent that would give us money for fan yogurt. lol
3) Gratitude Is Your Key To Peace And Happiness
Even as people appreciate thank you's and feel motivated to do more, so does God. Learn to always show him in your thoughts, actions and words that you appreciate his many blessings. There are so many people around us with less than what we have. Remember you are blessed to be a blessing!
4) Live within your means
I wasn't always good at saving but when you start making your own money, you realize you can't spend as you please. I have learned the importance of saving and investing more than you spend. It could be for a specific goal or for emergency or for retirement. What's important is that a specific amount is contributed every month towards your future. This also applies to my shopping habits which has really improved if I do say so myself. I can now see something I really like and then ask my self 'Do I really need this?' In the end, I manage to convince myself that something better will come along. I don't always win but I have come a long way. If it works for you, you can completely avoid going to the mall and eventually you will just get used to it.
Jenna, Isheoma and I at my birthday BBQ in June 2010. lol I hated that hair but I managed to pull it off
5) Priorities- Set Achievable goals
This will take you a long way in the journey of life - slow but steady. Know what you should do today and be disciplined enough to do it so that you can receive the gift of the future. The best way to do this is to write it down so you can always go back and re-strategize. Don't beat yourself up when a goal doesn't come out as planned. You never know, God might have a better plan for you. The goal is to plan for what you can, do your best to bring it to fruition and submit to the holy spirit to guide you according to his will.
Family picture taken during my Mom's 50th birthday sometime in 2011
6) Family is Everything
Yes I know family can make you want to pull your hair out sometimes but truth I have learned is that no matter how crazy or difficult it seems, your family has your best interest at heart. There's no one else you can confide in with absolute trust than family. You may pull each other's hair today but the next minute you will have a laugh about it. Lord knows I love my siblings with every inch of my being and I can only imagine what they will do to protect or defend me. When I think of the sacrifices my Parents make every day in order to make my future better than theirs, all I can say is I'm blessed. Trust me only God loves you just as much and more.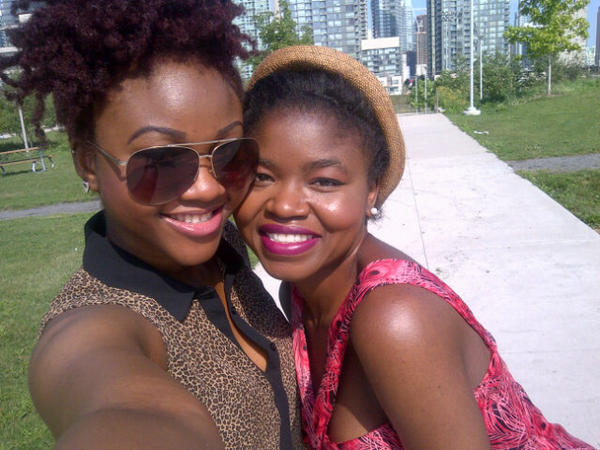 My long time friend Christy and I. I'm talking since Nursery school. lol
This pic was taken sometime during the summer of 2012 when she came to visit from Regina, SK
7) The Gift of Giving
You may not have enough to give or donate to a cause but you always have something that will be beneficial to someone else. Give your time, love, resources to those who need it and even those who you think do not. You never know what someone might be going through. Remember, when you give, you are giving to God so don't give and later back-stab or expect something in return. That's not giving to God. Most importantly, pay your tithe to your home church. I strongly believe that this is the way in which God blesses in terms of finances. If you are struggling in this area, give what you can with plans to become excellent at it.
8) Join a Community
Your community could be your church, school group, professional group. Make sure the group you choose is a group you can give to and can give back to you. You may not know everyone by name but surround yourself with positive people who have similar goals and help each other achieve these goals. Your community could be an organization where you share words of encouragement and resources and the sense of fulfillment you get in return cannot be expressed in words. During Christmas last year, I joined my co-workers to the Calgary Food bank where we helped to package canned foods etc for less privileged families. I also had the opportunity to contribute to the Samaritan's purse. I hope to get more opportunities to share God's love.
9) Pick Your Battles Wisely
You know how you go out with a smile on your face and unexpectedly, some human being just says or does something completely ridiculous and you're like..."lawd Jesus, just hold me biko". Yea, I get that feeling too and I bet we all do and we've all been both the annoyer and the annoyee but choose to let go of things easily. For some, it might be easy and for others, you may have to work on it but ultimately, the choice should be compassion and forgiveness.
10) Live Consciously
Choose the life you want, who you want in your space, live deliberately, set goals and aim to achieve the highest and the best. You are the only one with the key to your destiny so it is entirely up to you which door you choose to open. Choose love not hate. Choose life not death. Choose positive thoughts and not negative etc. Just choose to be beautiful!
Tracy and I sometime during Christmas 2010. Toughest period in my life and she was there the whole ride.
11) If It Doesn't Make You Happy, It's Not Worth It
Laugh and be happy every chance you get. Over the years, I've learned that I just want to laugh, I want to be happy. I want to be able to walk away from confrontations without marking the person in my black book. I want to eat on the street of Calgary, Toronto or Paris without worrying about what people think of me. I want to go to work, school, church and be happy. I want to associate with people that make me happy. At the end of the day and in our very core, regardless of your background, everyone wants happiness.
12) Don't Awaken Love Until Its Time
Fall in love with people and not the idea of love. Don't go into relationships or lead people on when you know that you see no future with them. Everything has a purpose and in due time, it will come to fulfillment. Many times, we go into relationships with people for the sake of just being with someone or because we love everything that surrounds them but not them. In so doing, we eventually hurt others or ourselves. I am a firm believer in staying single until you find that person you are willing to share your life with.
One day during one of our numerous walks around downtown Toronto. This girl is everything beauty and brains!!! ...she can dress for the nation too :)
13) Be Somebody's Destiny Helper
People come into our lives sometimes and the timing is just right. They are there to help you into or out of a situation. They may not be in your life for a long time but they make an impact. As much as you appreciate these encounters, it's more fulfilling to be used to make someone else's dream come true. Imagine if that destiny helper that came into your life several years ago decided they were too tired to take on someone else' problems or too self absorbed. God could have used someone else but there is always a blessing in being the one that God uses.
My dad and I during Christmas 2010. It was the hardest point in my life. He stood by me!
14) Honor Your Parents
Most of the time, your parents will be your biggest destiny helpers. They have the passion to see you become better so God will use them to take you to the place he wants you to be. However, your parents are only human. They can also choose to or not to listen to that still voice. The more you honor them, the more you warm their heart towards God.
15) Keep Moving Forward...
Whatever you do, don't give up! This applies to those dreams in your heart that bring you peace and ultimately make your life better. God has already given you what it takes to accomplish them and it takes a second for that dream to come true. It's truly sad to see some people with so much potential but their spirit has been weakened by life's trials. We come across them every day and it just takes a smile and word of encouragement to add some positive to their lives. Some people just need a smile to lift their spirits up. I remember when I had a hard time in Uni and all I wanted to do some days was just give up. I'm glad that didn't happen and that God was merciful enough to send someone to guide me and hold my hand till the end. Keep investing positives into your spirit and that of others and watch your life and theirs blossom.
Back in 2009 when I actually had edges. fix it Jesus!!! With my pretty friend, Jenna. She's beautiful in and out I must add :)
16) Fear Will Stop You From Living
There are certain things in life that I find difficult to do ...and most times I wait for a moment, a sign and tell my self that I'm not ready and God is not ready for me to have those things but truth is if you are diligent and you surrender your will to God, he will give you the boldness and the holy spirit to guide and strengthen you when things don't look so achievable.
17) Get Your Finances Right
Working towards a goal is always exciting and being confident in your finances is a good thing. It doesn't stop you from being confident in God. You worked hard to earn your income so make the wise decision to make it work for you. If you need to work on your credit rating, that's what you should do. If you need to save more or invest more, then do just that. You will feel much better and be able to plan for the unexpected. I know not everyone has a stable source of income. You can always start somewhere small. I have worked at the Deli - actually my first job in 2009 summer. When I graduated from the university last year, I planned to work at Home Depot but God had other plans. I was proud of every job I did and I did it to the best of my ability.
Thanks for the photoshoot Obi :)
18) Educate Yourself
Keep looking for ways to improve yourself. You can decide to take a course, not necessarily academic-related but in something you have an interest in like cooking, sports, hair braiding, anything really. Simply invest in yourself and work to be better every day.
19) Let It Go!!!
Look for the lesson in every situation, bad or good. You might have had encounters with several people that led to you deciding to burn a bridge or more. Instead of wondering how they could treat you that way, take the good from the situation by studying your reaction and what you could have done better. Chances are you will find something. Never waste your time plotting evil against or wishing evil on any one. If they have wronged you and its difficult for you to comprehend or let go of, commit your spirit to God and let him heal you. I may come on here and give all these positive and chummy yummy advice but the truth is, I get hurt too and who knows, I might have even hurt someone else without knowing. The time you waste on hating people will eventually consume you and what good is that. What can you possibly do to the person that you haven't already done to yourself. They killed my mother so I killed their father. In the end, we are both killers. lol Anyhoo point of the story is let the world be a better place because you chose to forgive.
Amaka and I last summer during a weekend trip to Banff for Jenna's birthday.
20) Nurture Your Relationships
It can be easy to get overwhelmed with our goals and ambitions. Sometimes, you go all week thinking about your this and your that. It's always about the next best thing and where you want to be in life. Remember that God blesses you to be a blessing to others. If you are given wealth in resources, use it to bless others. If you are given wealth in wisdom or love or knowledge or even in your smile and personality, use it to be a blessing to someone else.
This girl here....Talented human being! This was back in Fall 2009. My edges on fleek!!!
21) Be That Person You Admire
I admire so many people, their work ethic, their love for God, their personality etc but one thing I choose to remember is that these people are not extraordinary. They are simply ordinary people doing extra-ordinary things. They are people like me who set goals for their lives and decide to be better everyday. If they can do it, then so can I. I will invest in myself everyday, no matter how little. It will eventually add up!
My brothers and I in front of our old house in Rueil-Malmaison, Paris. I was forced to wear that hat. #dontjudgeme Wow! looking back, my mom forced all my outfits on me sha -_- hian!
22) Celebrate Your Journey
For everyone you admire, both online or in person, there is always a journey and struggle behind the scenes. I won't tell you how I failed my Econometrics class but I'll tell you how God still blessed me in spite of my failures. I'll only tell you how I got an A, after having to take the class a second time. No one likes to display their weakness for the world to see and trust me, including your so-called perfect friend, parent or mentor. Every one has a flaw or something they failed at and are ashamed of. So be proud of how far you have come. Celebrate your life and your journey. People only celebrate people who know how to celebrate themselves. You might just inspire someone else by just being the best you can be.
23) Tame Your Tongue
Even when it's difficult to do, I try to practice silence. This is something I have had to learn the hard way but i'm glad I learned earlier on in life. No matter how much it itches me to defend myself or add to that hurtful conversation, I always choose to be silent first, then speak only when I know it will improve the situation.
24) Dream BIG
Envision your life in the highest and best way, just how God imagined it to be. I try not to restrict myself. When an opportunity presents itself, I grab it! If I fall face down, I stand up and try again because I've realized that staying in my comfort zone will never help me achieve anything substantial. People have dreams to become lawyers, doctors etc but my only dream from day 1 has been to reach an executive position in whatever field or industry I find myself. Personally, I just want to attain the highest position in Procurement/Supply Chain. It's a huge dream and sometimes I get slightly defeated inside when I see VPs and SVPs of top companies. However, I remind myself that all it takes is God and Hardwork! Whenever I attend meetings where these executives are present, I always try to make an impression and also learn from them. Speaking up may not be my strength but I also don't want to be known as an observer either.
Graduation in June 2014 with my family-friends, Kolade and Anu. Love them!
25) You Create Your Life
In conclusion, I find this point to be the best and most important. When God distributed seeds, (the story of the talents) he gave some people two seeds and to some he gave five. The people with five can choose to do nothing with theirs and end up fruitless. Meanwhile, the people with two seeds can decide to invest and nurture their seeds until they see good fruits. It's entirely up to the planter. The seeds are already given, they are inside of you and its entirely up to you to water it and grow it to the best of your ability. I choose to create my career, my appearance, my finances, the way I act and how I interact with people. Live the life you deserve by investing in your God given talents.